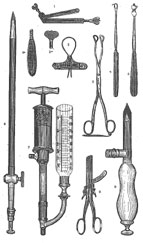 An Illustrated Wholesale Catalogue of Surgical and Dental Instruments, Elastic Trusses, Medical Saddle Bags [etc.] (Philadelphia, 1860)
bound with

John Weiss & Son. Catalogue of Surgical Instruments, Apparatus, Appliances, &c. (London, 1863) Snowden & Brother
$150.00

Reprinted in facsimile with an important new introduction by James M. Edmonson, PhD, author of American Surgical Instruments and the leading American historian of surgical instruments and other medical supplies used in Civil War hospitals and on the battlefield. The Weiss catalog is included because many Civil War surgeons and hospitals ordered equipment from English suppliers. The originals of both catalogs are virtually unobtainable. This reprint makes an excellent companion to American Surgical Instruments.

Limited to 750 copies. 344pp. Illus. Cloth, acid-free paper. ISBN 0-930405-72-2. Norman Surgery Series No. 10. NP33942.

» Skip to: About the Editor | Reviews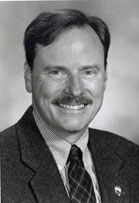 About the Editor
James M. Edmonson, PhD, is Curator of the Dittrick Museum of Medical History and teaches the history of medicine at the School of Medicine of Case Western Reserve University. A graduate of the College of Wooster, he received an MA and PhD in the history of technology at the University of Delaware. While at Delaware he was a Hagley Fellow and a Fulbright-Hays Fellow in Paris, France, and his dissertation, From mécanicien to ingenieur: Technical Education and the Machine Building Industry in Nineteenth Century France (Garland Publishing, 1986) received the Sypherd Prize for outstanding dissertation in the humanities. Since becoming Curator at the Dittrick Museum he has written on medical museology, the impact of asepsis upon surgical instrumentation, endoscopy, and medical patents. His publications other than American Surgical Instruments include Nineteenth Century Surgical Instruments: A Catalogue of the Gustav Weber Collection at the Howard Dittrick Museum of Historical Medicine (1986) and introductions for the following reprint editions from Norman Publishing of San Francisco: Charles Truax, The Mechanics of Surgery (1899) (1988); George Tiemann and Company, The Centennial Edition of American Armamentarium Chirurgicum (1889) (1989); and Surgical and Dental Instrument Catalogues from the Civil War Era: Snowden and Brother (1860) and John Weiss and Son (1863) (1997).
Reviews
"In essence, this book provides a meticulous analysis of the medical, surgical, and dental instrument trades in America from the later years of the eighteenth century to the earliest years of our own…[T]he detailed Directory fills a notable hiatus with its exhaustive listing of companies…Here museum conservators, instrument collectors, and others will find answers to many questions of name, place, and time."
—From the foreword by John Kirkup, MD, FRCS
---
"A well-researched and remarkable work on the evolution of American surgical instrument dealers and manufacturers. Edmonson's book becomes the definitive source for information on this fascinating branch of our country's surgical past."
—Ira M. Rutkow, MD, MPH, DrPH Author of History of Surgery in the United States and American Surgery: An Illustrated History
---
"The reprinting in one volume of two medical/dental surgical instrument catalogs from the American Civil War period should delight collectors, dealers, curators, historians, and reenactors…an important work.…"
—From the Bulletin of the History of Medicine, 1999, 73, p. 322
---
"Catalogs are one of the best sources of information about antiques. Unfortunately, due to their ephemeral nature, original catalogs are often scarce. That's certainly the case with 19th-century catalogs for medical instruments.
"Spurred in part by the ever-growing interest in the War Between the States, Norman Publishing has packaged two rare medical instrument catalogs in Surgical and Dental Instrument Catalogues from the Civil War Era: Snowden and Brother (1860) and John Weiss and Son (1863).
"James M. Edmonson, Ph.D., who authored American Surgical Instruments: An Illustrated History of Their Manufacture and a Directory of Instrument Makers to 1900, also wrote the introduction for this book. Edmonson presents a picture of medicine during the Civil War era, with special emphasis on the backgrounds of the two companies noted.
"Snowden and Brothers [sic] was a Philadelphia firm while John Weiss and Sons was a popular London manufacturer. British surgical instruments were widely used during the Civil War.
"Readers will find all types of medical instruments and apparatus in the two catalogs, from amputating saws to midwifery tools. Instruments from the fields of dentistry and optometry are also included.
"As with American Surgical Instruments, the book itself is a quality product that comes at a steep price when compared to most antiques reference works. However, it is more convenient and less expensive than trying to locate copies of the original catalogs."
—From AntiqueWeek, February 2, 1998
---
"For all the dating, identifying, and authenticating that dealers and collectors do, it's helpful to have a primary source, such as a reprinted catalog. This book is just that, two actual trade catalogs from the Civil War era. Historians, curators, and specialists will delight in its completeness."
—From Maine Antique Digest March 1998
© Maine Antique Digest, issue of March 1998
back to top