American Surgical Instruments:
The History of Their Manufacture and a Directory of Instrument Makers to 1900 James M. Edmonson, Ph.D.,
Curator, Dittrick Museum Of Medical History
$225.00
With over 300 illustrations, including 27 color plates, this is the first comprehensive history and directory of the American surgical instrument trade prior to 1900 and it provides a wealth of information never before available. Though a great deal is known about the practice of surgery and the men who performed it in colonial and nineteenth-century America, very little is known about the makers and dealers who provided the tools for these great practitioners. Dr. Edmonson has created a much-needed resource for historians, curators, and instrument collectors alike.
xi, 352 pp. 307 illus., 27 in color. 8 1/2" × 11". Index. Cloth, dust jacket, acid-free paper. ISBN 0–930405–70–6. Norman Surgery Series No. 9. NP31378.
» Skip to: About the Author | Reviews
From the foreword by John Kirkup, MD, FRCS
"In essence, this book provides a meticulous analysis of the medical, surgical, and dental instrument trades in America from the later years of the eighteenth century to the earliest years of our own…[T]he detailed Directory fills a notable hiatus with its exhaustive listing of companies…Here museum conservators, instrument collectors, and others will find answers to many questions of name, place, and time."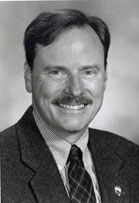 About the Author
James M. Edmonson, PhD, is Curator of the Dittrick Museum of Medical History and teaches the history of medicine at the School of Medicine of Case Western Reserve University. A graduate of the College of Wooster, he received an MA and PhD in the history of technology at the University of Delaware. While at Delaware he was a Hagley Fellow and a Fulbright-Hays Fellow in Paris, France, and his dissertation, From mécanicien to ingenieur: Technical Education and the Machine Building Industry in Nineteenth Century France (Garland Publishing, 1986) received the Sypherd Prize for outstanding dissertation in the humanities. Since becoming Curator at the Dittrick Museum he has written on medical museology, the impact of asepsis upon surgical instrumentation, endoscopy, and medical patents. His publications other than American Surgical Instruments include Nineteenth Century Surgical Instruments: A Catalogue of the Gustav Weber Collection at the Howard Dittrick Museum of Historical Medicine (1986) and introductions for the following reprint editions from Norman Publishing of San Francisco: Charles Truax, The Mechanics of Surgery (1899) (1988); George Tiemann and Company, The Centennial Edition of American Armamentarium Chirurgicum (1889) (1989); and Surgical and Dental Instrument Catalogues from the Civil War Era: Snowden and Brother (1860) and John Weiss and Son (1863) (1997).
Reviews
"A well-researched and remarkable work on the evolution of American surgical instrument dealers and manufacturers. Edmonson's book becomes the definitive source for information on this fascinating branch of our country's surgical past."
—Ira M. Rutkow, MD, MPH, DrPH Author of History of Surgery in the United States and American Surgery: An Illustrated History
---
"This is a major study of American surgical instruments and their manufacturers and it is hard to see how it will not remain authoritative for a very long time…Edmonson's book will become part of the world of historical scholarship.…"
—From Medical History, Volume 43, Number 4, October 1999, pp. 523-24
---
"…a comprehensive historical treatise on American surgical instruments…The history is fascinating."
—From the New England Journal of Medicine Volume 338, Number 26, June 25, 1998, pp. 1928-29
---
"The literature on surgical instruments has taken a giant leap forward with the publication of James Edmonson's comprehensive study… All medical museums and libraries, as well as collectors and dealers, should possess this monumental work."
—From the Bulletin of the History of Medicine, 1999, 73, pp. 321-323
---
"Some of the best reference books on the market aren't price guides. That may come as a shock to those collectors who go into withdrawal when they open a book about antiques and can't find anything to tell them the value of the items pictured.
"Unfortunately, bookstore shelves are filled with shoddy picture price guides of the most inane collectibles. Yet, the market is sorely lacking when it comes to in-depth reference works about legitimate antiques.
"American Surgical Instruments bucks that trend. James M. Edmonson provides the first comprehensive history and directory of the American surgical instrument trade prior to 1900. Although quite a bit is known about surgery itself in Colonial and 19th-century America, this book looks at the makers and dealers who actually provided the tools for the medical, surgical and dental trades.
"Extensive text is accompanied by more than 300 illustrations. The quality of the book is top-notch, including professional photography and a crisp layout.
"This is exactly the type of book I needed when I was researching two Civil War-era surgeon's kits. Now I can learn what I most wanted to know about those instruments—not what they are worth but details about surgery at that time, what the various instruments were used for and insight into the companies that produced those tools.
"With a list price of $150, this book costs considerably more than many reference works. However, for any serious student of the subject, it should be worth every penny."
—Don Johnson. From AntiqueWeek, February 2, 1998
---
"Comprehensive is the best way to describe this book, which looks at medical instruments and their manufacture. In the late 18th century most physicians and surgeons in America bought instruments made in England. Philadelphia's manufacturing base and its thriving medical community made it one of the first American cities to give rise to "surgeons' instruments." The book navigates through three distinct periods of manufacture: heroic surgery (1785–1840), conservative surgery (1840–90), and radical surgery (1890–1900). A 100-page directory lists surgical and dental instrument makers in America from 1785 to 1900. The appendices include a listing of 19 major collections of surgical instruments, and the book features a great index. The serious collector in the medical/surgery/dental instruments field should not be without this book."
—From Maine Antique Digest March 1998
© Maine Antique Digest, issue of March 1998
---
"This extensive and comprehensive survey of the American surgical instrument-making trade offers much food for thought on the relations between medicine and commerce. Both as a reference work and as a historical review it fills a gap in the growing literature on medical artifacts….[T]here is still a need for the painstaking work involved in such surveys, and James Edmonson's book offers a great deal beyond this."
—From Technology and Culture, Volume 41, October 2000, pp. 814–815
back to top