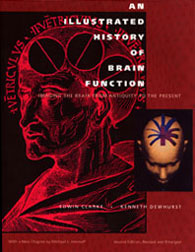 An Illustrated History of Brain Function:
Imaging the Brain from Antiquity to the Present Edwin Clarke & K. E. Dewhurst
$175.00
An illustrated chronological survey of attempts to localize brain function from antiquity to the present, this classic work, with detailed interpretive captions, is an invaluable guide both to the history of this aspect of the neurosciences and to many of the most dramatic pictorial sources in the history of neuroanatomy and neurophysiology from the ancient world to modern electronic imaging modalities. This new edition of Clarke and Dewhurst's definitive work is thoroughly revised and completely redesigned and reset. It contains a new preface by Edwin Clarke, a new chapter by Michael J. Aminoff surveying advances in imaging technology since 1972, and a new bibliography updating the neuro-scientific literature.
Second edition, revised and enlarged, with a new Chapter by Michael J. Aminoff
154 + pp., 158 + plates. 8½" × 11". Cloth, dust jacket, acid-free paper. ISBN 0-930405-65-X. 1996. Norman Neuroscience Series, no. 3. NP29478.
About the Authors
Before his death in 1996, Edwin Clarke, MD, MRCP, worked first in clinical neurology for twelve years and then, between 1960 and 1963, held posts in the history of medicine at the Johns Hopkins Institute, Yale University, and the University of California at Los Angeles. He was appointed Senior Lecturer in the History of Medicine at University College, London, in 1966, and from 1972 to 1979 was Director of the Wellcome Institute for the History of Medicine. His books include Nineteenth-Century Origins of Neuroscientific Concepts, with L. S. Jacyna (1987), The Historical Development of Experimental Brain and Spinal Cord Physiology before Flourens, translated from the German of Max Neuburger, and edited, with additional material, by Edwin Clarke (1981), and (C. D. O'Malley) The Human Brain and Spinal Cord: A Historical Study with Illustrations from Antiquity to the Present. Second edition, revised and enlarged (Norman Publishing, 1996).
Before his death, Kenneth Dewhurst, DPhil, MRC Psych, DPM, was a Fellow of Linacre College, Oxford, and consultant psychiatrist of St. Albans. His other works include The Quicksilver Doctor: A Biography of Thomas Dover, Physician and Adventurer (1957), John Locke, Physician and Philosopher: A Medical Biography (1963), and Dr. Thomas Sydenham (1624–1689): His Life and Original Writings (1966).
Michael J. Aminoff, MD, FRCP, was born and educated in England and moved to San Francisco in 1976. He is currently Professor of Neurology and Director of the Clinical Neurophysiology Laboratories at the University of California School of Medicine, San Francisco. He is the author of over two hundred publications and has contributed chapters to fifty books. His other works include Electromyography in Clinical Practice (1987), Electrodiagnosis in Clinical Neurology (1992), Brown-Séquard: A Visionary of Science (1993), Clinical Neurology (1993), and Neurology and General Medicine (1995).
back to top