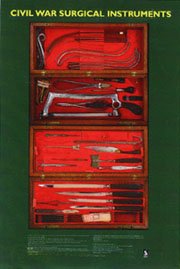 Civil War Surgical Instruments Poster —
Out of Print
36" × 24". Acid-free archival paper. Norman Print Series No. 10. NP35023.
From the collection of the Dittrick Museum of Medical History, Cleveland, Ohio.
Full-color poster displaying a set of Civil War surgical instruments manufactured by Dietrich W. Kolbé of Philadelphia. Issued in conjunction with Norman Publishing's American Surgical Instruments: An Illustrated History of their Manufacture.
back to top