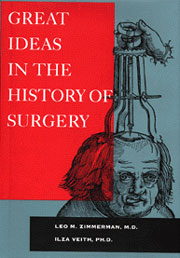 Great Ideas in the History of Surgery Leo M. Zimmerman, M.D. & Ilza Veith, Ph.D.
Out of Print
A history of surgical concepts and techniques from ancient Egypt to the early twentieth century, as expressed through carefully chosen selections from the original writings of the greatest surgeons in history. Each excerpt is prefaced by a detailed biographical and interpretive essay placing the work of each surgeon within its historical context. The selections are arranged both chronologically and thematically. The work also contains 115 portraits of surgeons and original illustrations from their writings.
Originally published in 1961, Great Ideas in the History of Surgery has been virtually unobtainable for more than twenty years. As a collection of timeless concepts and masterpieces of surgical thought and writing, it is just as meaningful today as when originally published.
16pp. 115 illus. 7" × 10". Cloth, dust jacket, acid-free paper. ISBN 0–930405–53–6. Norman Surgery Series No. 7. NP26899.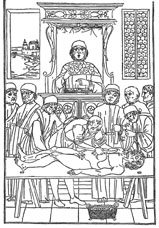 About the Authors
Ilza Veith received her PhD from Johns Hopkins University in the History of Medicine and the title of Igaku Hakase, or Doctor of Medical Science, from the University of Juntendo in Tokyo, Japan's oldest medical school. She spent fifteen years as a faculty member at the University of Chicago School of Medicine. Later she went to the University of California, San Francisco, where a chair in the History of Medicine was created especially for her. She is currently Professor Emerita, History of Health Sciences and Psychiatry at University of California, San Francisco.
Fluent in five languages, including Japanese and Chinese, Dr. Veith has written several books and articles. In addition to her coauthorship of Great Ideas in the History of Surgery, she has written Can You Hear the Clapping of One Hand?; Art Is Medicine; Medizin in Tibet (in German); A Translation of the Earliest Medical Book, Ishimpo; Hysteria: The History of a Disease; and The Yellow Emperor's Classic on Internal Medicine.
Dr. Leo Zimmerman graduated from Rush Medical College in 1922 and did his post graduate work at Northwestern University Medical School. He was Professor of Surgery at the Chicago Medical School and attending surgeon at Michael Reese and Cook County Hospitals until he retired in 1968.
Before his death in 1980, Dr. Zimmerman published more than fifty research studies and coauthored several books, among them Physiologic Principles of Surgery, Principles of Surgical Practice, and Anatomy and Surgery of Hernia. His article "Dr. Samuel A. Mudd, Hero of the Dry Tortugas" was among the first attempts to clear Dr. Mudd of complicity in the assassination of Abraham Lincoln.
Reviews
"An apparently seamless collaboration between a surgically minded historian and a historically minded surgeon…a satisfying and readable history."
—From Perspectives in Biology and Medicine 38, 2 (Winter 1995): 295–296
back to top