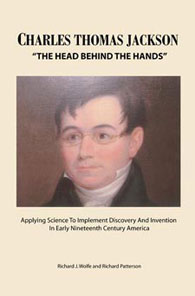 Charles Thomas Jackson:
"The Head Behind The Hands."
Applying Science To Implement Discovery And Invention In Early Nineteenth Century America Richard J. Wolfe & Richard Patterson
$35.00
x, 417 pages. Frontispiece, 8 plates and 4 illustrations. Cloth, dust jacket, acid-free paper. 6 " × 9 ". ISBN 978–0–930405–89–2. NP40064. November 2007.
» Skip to: About the Authors | Reviews
This is the first full-length study of Charles Thomas Jackson, one of the most remarkable and maligned figures in the history of American science and medicine. Jackson was a key figure in three notable discoveries made in the United States before 1850: the discovery of surgical anesthesia, brought about with the dentist William T. G. Morton; the discovery of the American electromagnetic telegraph, made in association with the artist Samuel F. B. Morse; and the proving and commercial exploitation of the copper deposits in the state of Michigan, achieved over the objections of two of his assistants. But in spite of those accomplishments, Jackson's name was eventually invested with ridicule and scorn.
Out of greed or resentment, those associating with Jackson in these three discoveries denied his contributions and claimed the honor of discovery for themselves. To bolster their arguments, each published defenses of their claims that disparaged and denigrated Jackson's and blackened his name, while Jackson published nothing in response. The reputation they bequeathed to Jackson, marking him as an unstable, paranoid and litigious man who was forever claiming the discoveries of others, was accepted and embellished by twentieth century commentators, a number of whom—sometimes unwittingly, sometimes maliciously—resorted to fiction and even slander to back up their arguments and to further dishonor him.
Charles Thomas Jackson: "The Head behind the Hands" is the first book ever to be published in Jackson's defense, examining and discussing the above controversies and other charges against Jackson growing out of them. With the aid of new or long ignored and long forgotten documents and archival records, including printed literature, court records and previously unavailable manuscript sources, the authors prove beyond a shadow of a doubt that Jackson was the hero and not the villain in all of these controversial and acrimonious affairs.
About the Authors
Richard J. Wolfe was formerly Curator of Rare Books and Manuscripts at Harvard Medical School's Francis A. Countway Library of Medicine, serving also as the Joseph Garland Librarian of the Boston Medical Library. Charles Thomas Jackson: "The Head behind the Hands" is his fourth book dealing with the history and personalities of the anesthesia discovery. His Tarnished Idol: William T.G. Morton and the Introduction of Surgical Anesthesia is also available from historyofscience.com.
Richard Patterson, UCLA Professor of Anesthesia Emeritus, has written on American physicians Samuel Guthrie, Charles T. Jackson and J. Leonard Corning, nineteenth century anesthesia pathfinders.
Reviews
"This examination of the contributions of Charles Thomas Jackson, Boston physician and geologist/chemist, represents the first complete defense of this neglected scientist. Jackson was involved in the discovery of anesthesia, the electromagnetic telegraph, and the nature, location, and extent of copper deposits in Michigan's Upper Peninsula. Decrying Jackson's diminished status in the history of American science, Wolfe (formerly, Harvard Univ. Countway Library of Medicine) and Patterson (emer., Univ. of California, Los Angeles) explain that Jackson published nothing in his own defense, thereby allowing enemies to depict him as insane and an alcoholic. New England's wealthy elite were not sympathetic to his innovations since their economic interests lay in shipbuilding and worldwide commerce. The authors maintain that Jackson, born into privilege, conducted his work for altruistic reasons. He pursued science for its own sake and thus differed from rivals Samuel Morse and William Morton, not true scientists, but technicians motiviated by mercenary considerations. America's foremost physicist, Joseph Henry, also helped develop the telegraph, but did not receive full recognition for his work, although he was not burdened by controversy, a point unexplored here. This worthy attempt to correct an injustice is handicapped by writing that lacks clarity, with long, confusing sentences containing numerous parenthetical asides. . . . Recommended."
—Choice: Current Reviews for Academic Libraries, October 2008
back to top