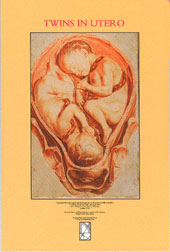 Twins In Utero Poster —
Out of Print
Full-color poster reproduced from the original sepia drawing by Jan van Rymsdyk for William Smellie's Sett of Anatomical Tables…of the Practice of Midwifery (1754). Issued in conjunction with Norman Publishing's Obstetrics and Gynecology: A History and Iconography.. (From the library of William Hunter, Courtesy of the Librarian, Glasgow University Library).
36" × 24". Acid-free archival paper.
Norman Print Series No. 8. NP29287.
back to top