Spectacles and Other Vision Aids
A History and Guide to Collecting J. William Rosenthal, M.D.
$148.00
This magnificently illustrated and beautifully designed work is the most comprehensive history ever written on the development of spectacles and other vision aids in Europe, America, Japan, and China. With over 780 photographs, of which 310 are in color, Dr. Rosenthal illustrates and analyzes the historical development of a wide variety of vision aids, from spectacles to opera glasses, tracing their development from antiquity to the present day. No other work has covered the field of vision aids on this grand a scale nor provided such magnificent illustrations of such a variety of specimens.
552 pp. 781 illus., 310 in color. 8½" × 11". Index. Bibliography. Cloth, dust jacket, acid-free paper. ISBN 0-930405-71-4. NP31395/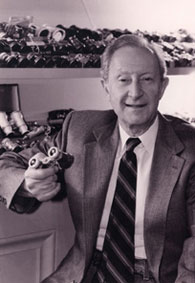 About the Author
J. William Rosenthal received his MD from Tulane Medical School and his MSc and DSc from the University of Pennsylvania. He was a Diplomate of the American Board of Ophthalmology and a Fellow in the American College of Surgeons, the International College of Surgeons, Royal Society of Medicine, and the French Ophthalmological Society. He was the Chief Curator of Spectacles at the American Academy of Ophthalmology Foundation in San Francisco, Ophthalmic Consultant for the Smithsonian Institution, and Founder and Curator of the Jonas W. Rosenthal, MD Memorial Ophthalmology Museum at Tulane University. He had one of the world's largest private collections of antique ophthalmic items and was also a collector of edged weapons. In addition to all of these distinctions and activities, Dr. Rosenthal was a practicing ophthalmologist in New Orleans for many years.
Reviews
"Every so often a book becomes an instant classic and defines the field that it covers. Such a book was written recently by J. William Rosenthal…a visual masterpiece…It belongs in the collection of everyone who is interested in the history of spectacles and other visual aids.…"
—From Ophthalmology Times July 7, 1998
back to top