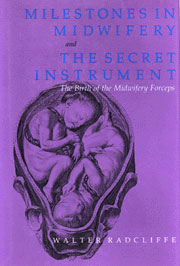 Milestones in Midwifery and The Secret Instrument: The Birth of the Midwifery Forceps Walter Radcliffe, M.B., B.Chir., M.R.C.S
Out of Print
This reprint edition unites in one convenient volume Walter Radcliffe's readable and authoritative history of obstetrics with his exceptionally interesting history of the obstetric forceps. Milestones in Midwifery surveys major events in the history of obstetrics from the ancient world to the early twentieth century. The Secret Instrument traces the history of the obstetrical forceps from its secret invention by the Chamberlen family in the early seventeenth century to its eventual disclosure and enormous influence on the scientific development of obstetrics in the second half of the eighteenth century.
Milestones in Midwifery. 110pp. 15 illus. BOUND WITH: The Secret Instrument (The Birth of the Midwifery Forceps). 83pp. 25 illus. 6 1/8" × 9 1/4". Cloth, dust jacket, acid-free paper. ISBN 0–930405–20–X. Norman Obstetrics & Gynecology Series No. 1. NP13806.
About the Author
Walter Radcliffe attended Gonville and Caius College, Cambridge, and received his medical training at St. Bartholomew's Hospital in London. He practiced general medicine in Wivenhoe, near Colchester, for thiry-one years. Dr. Radcliffe died in 1996.
back to top