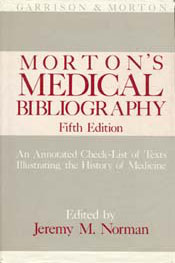 Morton's Medical Bibliography
Jeremy M. Norman, Editor
Out of Print
The standard bibliographical reference, providing, in convenient form, an annotated chronological listing of the most important contributions to the Western world literature on the health sciences from ancient times to circa 1980. Secondary sources are included up to roughly 1990. The annotations briefly explain the significance of individual contributions to the history and development of the bio-medical sciences.
The online version of Morton's Medical Bibliography, which went live in the spring of 2015, has has already been extensively revised and enlarged from the 1991 fifth edition, and will continue to be updated and corrected.
In 1994 the fifth edition received the award for Best Reference Work from the Archivists and Librarians in the History of the Health Sciences.
back to top